What do you do when you find that your bolt of linen is 2 yards too short?
Well, I pivoted to silk.
Luck was with me today when I discovered that I didn't have as much linen as I thought. I managed to find another few pieces of linen and had almost resolved myself to piecing it when I remembered a bit of white silk in my stash. I measured it. 4 2/3 yards at 55 inches wide. It was going to be close.
Next I set myself to drafting a kosode pattern. The modern analog for a Heian kosode is a nagajuban. It's the skin layer. Yes, there are perfectly lovely and workable patterns available. All my other kosode use them. I specifically recommend this page by Lisa Joseph, known in the SCA as Saionji no Hana.
The other two garments in the ensemble will be constructed using Jidai Isho no Nuikata, a wonderous tome made by experts in the field of Japanese historical dress who took apart garments left to a temple and patterned them. It's as close to historically accurate as I can get. But it doesn't include a woman's Heian kosode pattern.
I decided to use two men's undergarment patterns and the women's patterns for hitoe, itsutsuginu, uchigi, and uwagi as the references. I used my own measurements to determine the length for the body of the garment. I made the sleeve just a bit shorter than the hitoe sleeve so it nests inside neatly. I drafted the overlap panels to be 13cm shorter than half the length of the body panels, the same as the aforementioned women's patterns. I used the collar length from the women's hitoe and the width is the same across all garments.
Now was the moment of truth, did I have enough silk?
Yes.
As luck would have it, I have exactly enough silk. Down to the inch, exactly what I needed.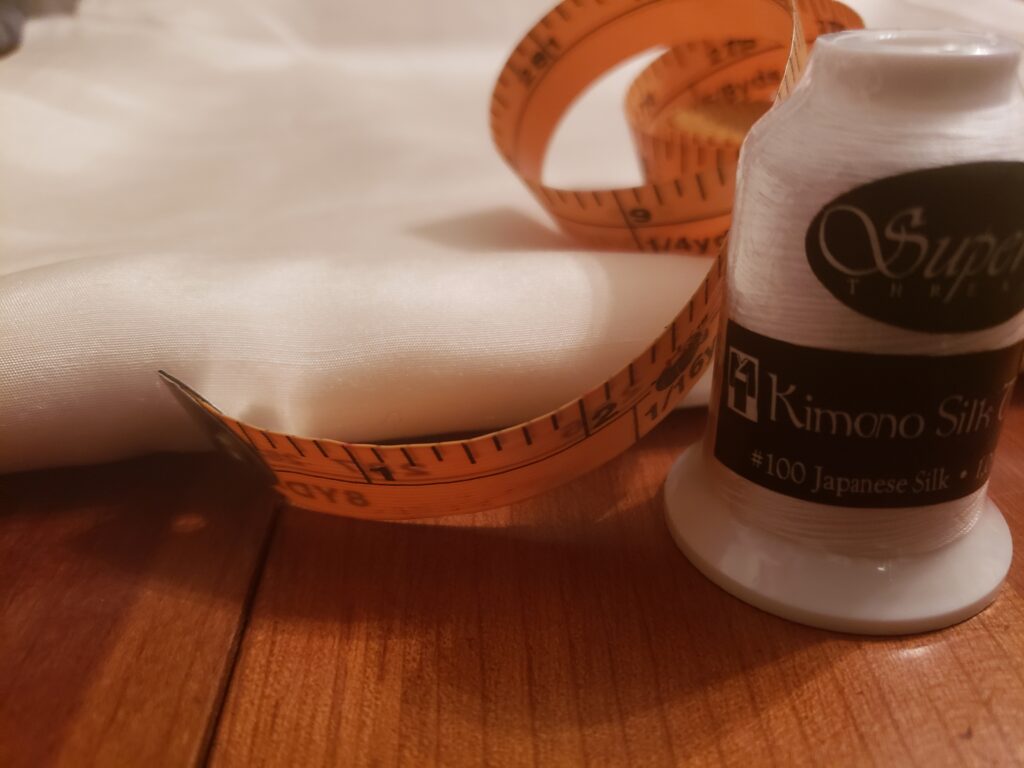 In other good news, Golden Witch shipped my silk thread without delay! They even included some nifty vintage fishing findings. I have an angler friend who may appreciate them. No, I didn't realize I was ordering from a rodmaker's supply. They had the thread I needed in stock at a great price.
I'm so excited to have the silk thread to finish the kazari-himo. I'm seriously considering blasting out the three remaining cords and finishing the two remaining panels. That's right. Finished another one last night. It would feel really good to get an entire layer complete ahead of schedule.
Tomorrow I'll warp the marudai, stitch another panel and possibly cut out the kosode.