It is what it is.
4 tama* of old silk thread, 4 tama of new silk thread. I knew there would be a difference. I set them alternating so that the difference in the cord would evenly spiral through it instead of bouncing from side to side creating a zig zag wave in the weave from the variance. I've seen how differently weighted and sized strands affect a braid.
I didn't expect the cord to appear tighter. The new thread is higher quality and smoother than the old, and the resulting braid is more fine. It's also slightly smaller. Just barely.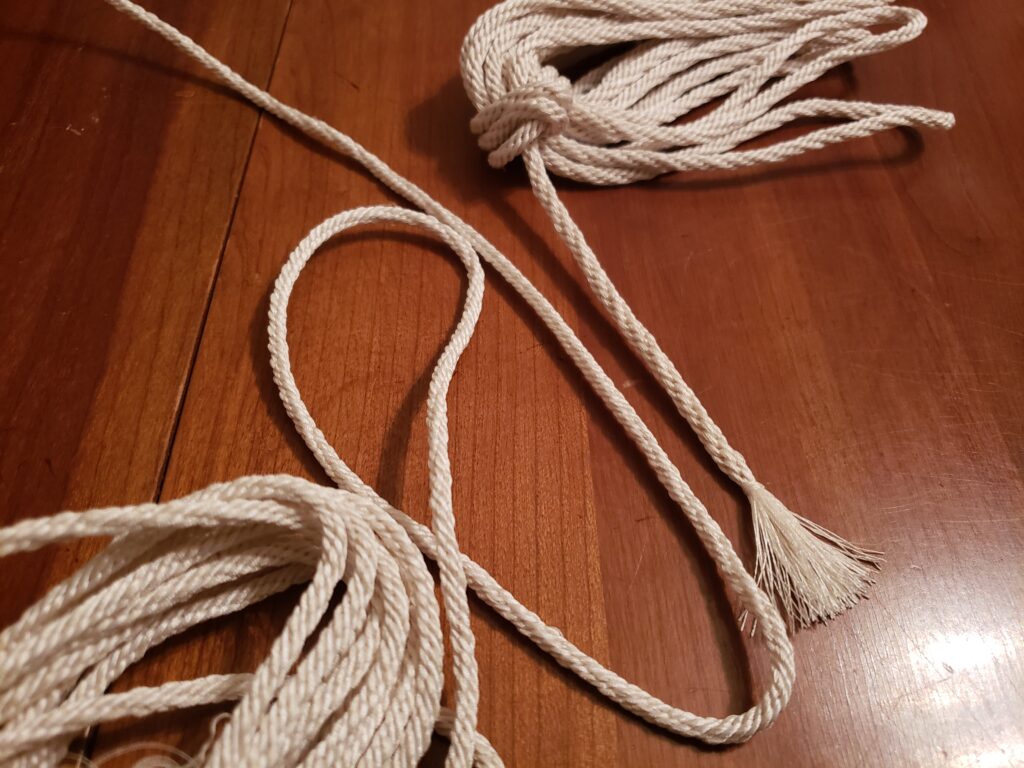 Between a little more weaving last night and some this morning I've finished 148 inches. I'll have the weaving of kazari-himo (decorative cord) number 2 finished tonight. Tomorrow will be for reeling out more silk thread and cutting the kosode.
Speaking of more silk thread…I've done the math. Three times, actually. The first time I had just enough thread. The second and third times were just now to double check and then verify that my double check was indeed right. The first time I was wrong. Oops.
I will have to order more thread since the new thread is so much lighter than the old thread requiring more threads per strand. And since I have to order more anyway, I'm going to up the threads per strand to 40. I know that seems like a huge jump, but I totally spaced and called the last set 15 threads per strand when they were really 30. I made 15 loops around the sawhorses. There and back makes 2. Oops. This is why my math was off the first time.
I'll need 2 more spools. Did I ever say that these spools are 1,090 yards each? Bwahahahaha! Yeah. I'm going through a lot of silk thread.
*I realized tonight I've never really explained what tama are. They're weighted wooden spools or bobbins. Each strand of the braid is wound around one tama, the braid I'm weaving has 8 tama or 8 strands. I'll take some pictures of my kumihimo "equipment" for a post later this week. I think I should also probably start a glossary to assist my readers…