3/3
Hinamatsuri! It's Girl's Day! The third day of the third month is considered auspicious. The festival was previously known as Momo no Sekku, or peach festival. During the Heian period, the third day of the third month would line up more closely with the 8th of April or so. Peaches would be in bloom, hence the festival to celebrate spring's arrival/the changing of the seasons.
I spent the later part of the evening reading a thin volume, Stephen Turnbull's Samurai Women 1184-1877. I stopped halfway through to give myself something nice to read tomorrow. One of the most interesting things has to do with the hard numerical representation of women warriors. At one dig site, 35 of the 105 sets of remains were female and 2 other digs reported similar numbers. That's one third of the total! Female samurai warriors were much more common than the overtly male lens of history would suggest. I'm somehow not surprised. I'm going to use this detail during my class while discussing kogai. Everybody had to do their hair.
3/4
Fighting against sleep To read another story Calligraphy blurs
The silent roar of a yawn Brings tears to my weary eyes
3/5
Today is my Laurel's birthday. I wrote a silly pair of poems for her:
A celebration Of the birth of my Sensei Wielder of needles
Manipulator of cloth her service a cherished gift.
She sews, she bakes, she'll Poke you with a rapier – Her wit just as sharp
Such a talent with numbers And she helps to guide my art.
3/6
It is not enough to desire to be a thing courage is required
the choice to do what must be done each day without failing.
In my research today I came across a number of articles that I find fascinating, along with a book. I may buy the book. I've downloaded the articles already, including one really lovely 45 page article about Heian noblewomen taking pilgrimages to shrines and temples. I'm over the moon excited about that one. I'm sure I'll find extensive information to inform my interpretation of the travelling outfit.
3/7
Sifting through ideas Catching stray thoughts in my hands
Watching daydreams pass Attempting to inhabit A better version of me
Today I attended a Carriage Symposium. It was exclusively European carriages and modes of conveyance, which was a little disappointing. The last class of the day was about driving oxen, and that was at least relevant to my studies. Noblewomen in the Heian period would sometimes be transported in ox-drawn carriages. It's specifically these carriages that women would hang their sleeves out of, to the point that some women attached larger sleeves to one side of their gowns. Sei Shonagon, of Pillow Book fame, self-proclaimed fashion maven and Heian courtier, thought this practice made ladies look lopsided and ugly.
3/8
I bought the book. It's an e-pub, so I got it instantly via download. It's The Search for the Beautiful Woman_ A Cultural History of Japanese and Chinese Beauty. I have a lot of reading to do.
Finished the first of the 2 cords I'm making for my Laurel's gown. It came out to just a smidge over 6 yards. Embroidery floss starts out at 8.75 yards, so the take up was fairly small. I'm excited to be halfway done with this project.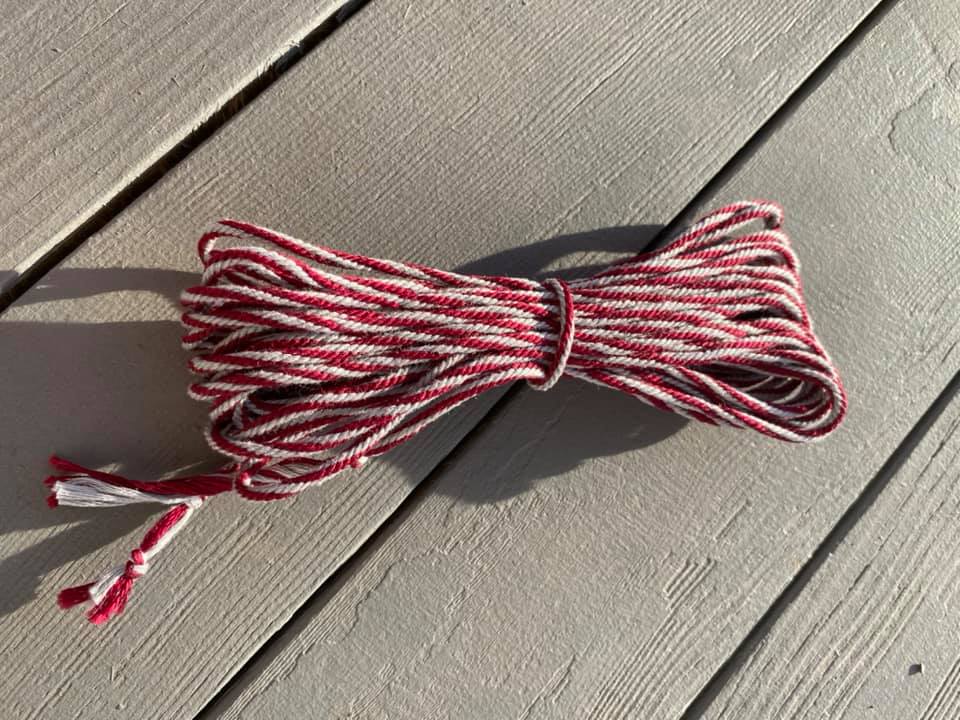 I received a note today from the C3 team. I was expecting a small token, maybe a little pewter casting as a memento for winning my division. I was wrong. The note informed me that everyone was receiving hand-made persona specific items, but not me. They said they were not familiar enough with my culture to make something so have instead decided to present me with a generous gift-card to Mood Fabrics in New York. I'm astonished, absolutely floored, and very excited. I've never ordered from Mood before! I'll probably use the gift toward buying some silk for either a white hitoe or red nagabakama (extra long very full trousers).
3/9
I exchanged poetry, tanka, with a friend today. It was the first time someone responded to one of my poems with one of their own and I was absolutely thrilled. Made. My. Day. We went back and forth twice. It was an unexpected and delightful experience. Exchanging poetry was one of the major ways that Heian aristocracy communicated their true feelings to one another.
I'm more than one third of the way to 1000 Tanka. Current count 343.