I've been able to attend several events.
The East Goes East – was a rewarding event to autocrat/schedule. Their Royal Highnesses attended, and much to my surprise, They even sat in on one of my classes. It was such a deep honor. And speaking of honors, Lady Patience Faircloth and I received a commendation from the Board of Directors of the SCA for the event. I was floored. We have discussed the possibility of making it an annual event.
Aisles of March / Crown's A&S Championship – In what will be a recurring theme, I did not complete the items I wanted to for this event for myself. Eventually I'll make a hiogi (wooden fan) but it has not happened yet. I did complete the scroll/document for the next Queen's Champion of Arts and Sciences. The next blog post will be its write up.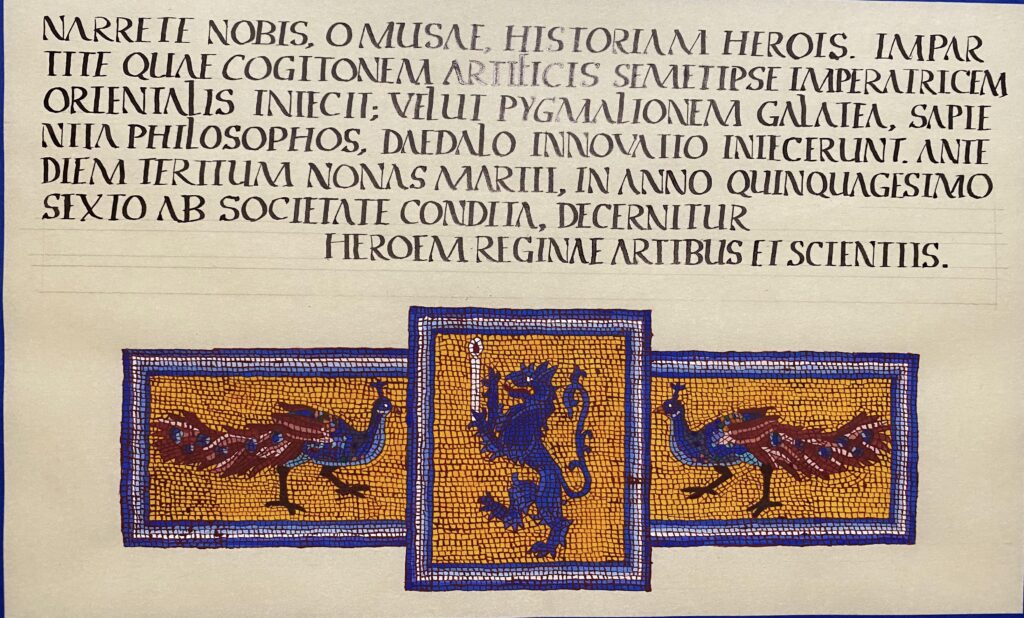 I was very emotional stepping down. I didn't cry in public, but it was incredibly difficult to let that position go. I am quite in awe of the project submitted by the new Queen's Champion. It was a deep honor to be in the room consulting with Their Majesties and Highnesses regarding the next Champions. I am so very grateful for my time as Champion and the work I was able to do to inspire the Arts.
Gulf Wars in Gleann Abhann – This is a 22 hour drive one way. For this trip, 9 of those hours were through heavy snowstorms. I don't know why I decided that driving straight through was the right idea, but that's just what I did. We arrived early enough to get on site and set up camp, but with the temperatures predicted in the high 20s and weary from the drive, we stuck to the original plan and a hotel was procured. Our tent heater got a workout as it was in the low 30s the next night on site. I spent the majority of my free time sewing, even staying up through the night and sewing for nearly for 24 hours straight to finish the items for the Champions A&S Competition. I was very pleased with the work I did. But there was disappointment at the A&S Competition. Of course I wanted to win for the Glory of the East Kingdom, but that did not happen, and that's ok. It was my first in person A&S competition, and there was definitely a learning curve. I did get some confusing and even angering comments from my judges that made it clear they did not have the time to read my documentation. I'm puzzling over ways to make it easier to get into the documentation for future competitions. I'm also very grateful for the Laurel who took me aside after the competition to talk me down and help me reframe the competition. I didn't know if camping/eventing would complicate it, but I was able to continue writing and posting poetry the entire time. My partner and I did decide to leave the event a day early (there was a minor flooding issue) and the drive home was very relaxed. This event was also the 19th anniversary with my partner, we met at Gulf Wars.
Gathering of Fools – was a pot luck local event. I made two lovely Japanese dishes, a carrot and daikon salad and a shitake mushroom dish. I was astonished when I was called into court and made the First Poet of Carolingia. Her Excellency Carolingia presented me with her own quill, tied with a beautiful silk ribbon to mark my new office.
Coronation – was a beautiful event. I displayed the kosode that I sewed at Gulf Wars and retained for the first time officially. I was also able to process in with the new Royals in evening court. This was the first time that I was able to wear my travelling outfit at an event.
Balfar's Challenge – gave me another chance to retain for TRMs. I spent a lot of time chatting with friends and meeting new people. And I also learned that the makeup I wear is not adequate in preventing sunburn.
East Kingdom College of Performers Challenge Assembly and Schola was a delightful Bardic event that I attended with Her Excellency Carolingia. I took a few classes and performed a tanka. It was a beautifully relaxing day, if a little warm.
Otter's Welcome was the Barony of Carolingia's event to welcome newcomers. I had a ferocious migraine, and showed up late, but eventually found where I was supposed to be to set up for the Largesse Derby. I spent most of the day speaking with Mistress Cathain who was watching over the A&S display. In court I was inducted into the Order of the Moon, the Barony of Carolingia's A&S award. Just before court, His Excellency Master Aquel presented me with a small box. inside were two beads, a beautiful glass bead, and an astonishing carved bone netsuke charm in the shape of a tiger eating it's tail. The gift was presented with a directive to carve my own inro, a decorative case used to hold small objects that usually hangs from the obi/belt.
War of the Roses did not happen for me. That migraine I had at Otter's was actually a COVID symptom. Luckily no one seems to have gotten ill from spending time with me at that event. I did not complete the items I wanted to for this event either, even if I couldn't go. Every time I approach making myself something other than Japanese garb, I freeze up. I know how to make these things, I just can not picture myself actually wearing anything other than Japanese. So I guess there's no point in making any of it. I do still need to make a few non Japanese items for my partner, a Viking under tunic and pants, and a late period shirt and doublet. We also discovered at Gulf Wars that he really prefers more simple garb, so I'm devising ways to make the ties on his hakama much easier and will be revising all the sleeves on his kosode.
As much as I would love to go to every event I can, that is just not currently financially feasible. I'm grateful for the 8 events I've had so far this year. I plan on 1 in July, Great Northeastern War; 1 in September, Falling leaves, though I'd love to attend Ducal Challenge to see the former Sovereign's A&S Champ be inducted into the Order of the Laurel; and 1 in November, St Eligius Arts and Sciences Competition. I will consider Coronation and Crown list once they are scheduled. Unless circumstances change, this will be it for the rest of the year.
Beyond events, I have a few active projects…
TRMs Garb is "due" this month. I may need to ask for another two weeks, as I lost two weeks to COVID.
New Scroll! I actually turned down the next assignment I was offered. I was asked to make the Bardic Champions' documents, and really would have loved to do it, but I was planning to compete and thought that would be a little weird. This assignment is an AoA. Luckily the gentle has an East Kingdom wiki page, so I can easily pull the information I need that was not included by the person who recommended them. This document has a quick turn around, and will need to be completed by the end of June so that someone can hand deliver it to the event on July 1st. There's no way I can give up the time required to mail it. And I'm loathe to mail scrolls/document anyway.
Samurai Training – I've picked this back up. I've been attending Fighter Practice and doing daily drills. I need to get my armor together so I can actually start sparring.
Genji Project – I've now talked to a number of people about this project, and I think I've worked up the courage and cleared my project schedule. I've decided to start in July. I'll do a write up of the project to officially announce it. And there will be other happenings. This will also mean more frequent updates to the blog to follow along with the project.
And I have a completed project:
100 Days of A&S – At last, a completed project. I spent at least 15 minutes, every day for 100 days doing something A&S related. Usually this was writing a tanka, but it was also work done to support A&S at events and studying Japanese, sewing and researching and teaching classes. I'll admit this was an easy project, and that it continues as I am still writing tanka, every day.